The Crazy Cat Person Thread
So, after creating
The Tea Thread
, another passion of mine that I've long intended to create a thread here for is
cats
. To fill this void, here is
The MI6 Community Cats Thread
. I've taken the thread title from the expression "Crazy Cat Lady" and expanded its remit to make it more "gender neutral" for the modern world. Aren't I in fashion?! I'm sure that there are just as many Crazy Cat Gentlemen out there as Crazy Cat Ladies, hence the much more inclusive title of this thread. Another expression that one hears a lot of now is that "Cats rule the internet" and this is no doubt true, considering all of the cute videos and pictures of cats out there as well as memes and other modern expressions of the Internet Age. This being so, I thought that it was high time that cats, as animals and pets, had a thread of their very own here on MI6 Community. Hopefully, cats will rule MI6 Community too!
;)
So, this is the space to discuss all aspects of cats (though not Big Cats like tigers and leopards of course!). I myself currently have two cats: a tabby cat called Kitty who was born in 2012 and a black and white kitten called Millie who was born in late July 2017 and whom I have had as a pet since 18 September 2017. Before this, I had (along with Kitty) a cat called Lucy (it was my brother's cat but in later years it came to live with us of its own accord, as we do not own a dog and he does). Sadly, Lucy, who was around 12 years old or so (perhaps a bit older), died on Friday 10 March 2017. Posted below you can see a short video from January 2017 of a rare moment when (rather reluctantly on the part of Kitty) they both shared a cushion on the sofa together for the first time. Lucy and Kitty appear in the order of their names: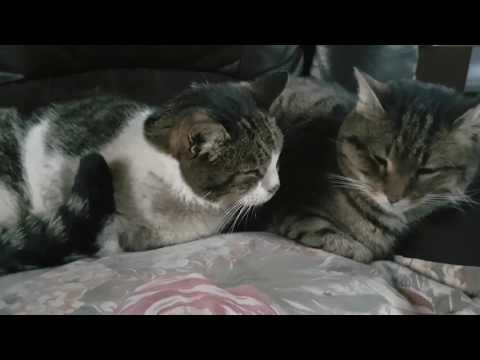 I know that
@Ludovico
,
@chrisisall
and myself (albeit in painting form; the cat looks like my own cat Millie Dragonpol by the way) all feature cats in their avatars so I assume they will post their thoughts on cats as pets at the very least! Sorry if I have inadvertently missed any cat avatars on MI6 Community.
So, I'd love to hear of your experiences with cats as pets or even other people's pets, strays etc. So, are you a Crazy Cat Person?
Meow
!