This gave me the idea from a conversation I was having in another thread. What video games can you think of that have been based on or influenced by Bond. I'll kick things off with a few from the 80's. Please feel free to add photos/videos along with your memories:
SPY HUNTER (1983)
An absolute classic from Bally Midway. A vertical scrolling game in which you drive the G-6155 Interceptor. The game was continuous meaning there was no end to the game. The purpose was to get the highest score possible (this was very much in line with the majority of games from that period). Various enemies appear throughout trying to destroy your car. They all possessed different abilities:
Road Lord
- Bulletproof. It would try to force you off the road
Switch Blade
- Produced tyre shredders (ala DB5 in Goldfinger)
The Enforcer
- A sleek limousine with a sniper appearing from the rear passenger window
Mad Bomber
- A helicopter which would drop bombs in front of your car's path.
Thankfully your car was also well equipped to defend against these enemies. The Interceptor started off with front mounted machine guns (with an infinite supply of ammo). However, at intermittent points, a "Weapons Van" would appear allowing you to drive into the back of it to upgrade your weapons. These were 'Smoke Screen', 'Oil Slick' and 'Ground to Air Missiles'.
Occasionally, the player would be warned that the bridge up ahead was out and so you would need to navigate your car via a sliproad where it would transform into a powerboat in order to continue it's mission. This nautical version of the Interceptor was equipped with the same front mounted machine guns as the car.
Midway originally produced a version of this game accompanied by the James Bond Theme. However, it was scrapped when EON refused to allow them the rights to use the theme. Henry Mancini's "Theme from Peter Gunn" was subsequently used instead.
An ill advised sequel was released in 1987 and was panned by critics. (I played a port of it on PS2. It is bloody awful). A re-imagined version of Spy Hunter was released by Midway in 2001 on the PS2 and XBOX. It was met with a critical acclaim.
ELEVATOR ACTION (1983)
Released by Taito, this game featured the player as a secret agent who infiltrated high security buildings in order to steal secrets from various rooms (indicated by red doors). The player would use various elevators and escalators to descend to the parking lot where on completing the mission, the agent would escape in his red sports car. Numerous enemy agents would appear throughout trying to stop you and the player could either shoot or jump kick them (these enemies could also be squashed by an elevator or have a ceiling light shot on to their heads). The game was ported on to home computer and a sequel was released in the arcades in 1994. A revamped version of the original is available from the PSN Store and XBOX Live.
One area in the game I always thought was lacking was the music. This is the soundtrack to the arcade game:

Now compare it to the music used for the ported version on the Sinclair Spectrum: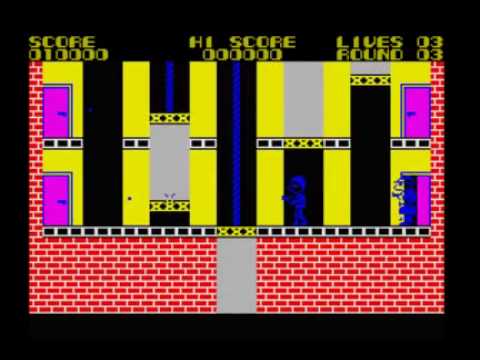 I always liked that tune. Far more Bondian.
ROLLING THUNDER (1986)
Released by Namco. This game was a 2D scrolling shoot em up in which the player took control of a secret agent codenamed "Albatross" from World Crime Police Organization. The objective was to rescue a missing female agent named "Geldra" from a sinister, yet nameless society, whose leader was a cross between Blofeld and Ming The Merciless. The player started the game with a pistol, but that could be swapped to a rapid firing machine gun at various points throught the ten levels of the game. This game was also ported to home computer. (The spectrum version I have was OK but not great). Two sequels later followed.
SLY SPY SECRET AGENT (1989)
A video game by Data East that was more than just a homage to Bond (the end of level bosses featured characters based on Jaws, Odd Job and the JIM diving Suit from FYEO). You played a top American secret agent (you could choose your own 3 digit codename at the start. Naturally I always went for 0-0-7) whose job was to rescue the President and First Lady from an organization called C.W.D. - Council for World Domination.
The game was a 2D scrolling shoot em up with the game engine based on Data East's previous smash - Robocop. There was variety to the levels however including skydiving, with the coup de grâce being the agent would pull the ripcord to reveal a Stars and Stripes parachute (where did they get that idea from?). There was also a level featuring the player on a motorbike shooting down enemies on bikes and jetpacks and two scuba levels where the player was equipped with a harpoon to kill other scuba divers and sharks. After numerous delays a port was belatedly released on computer in 1991 to a mixed response.
Throughout the game, certain enemies would drop gun parts. Once you collected five of these parts, you would be rewarded with the "Golden Gun", a big mutha of a rifle that could obliterate everything on screen (a similar weapon featured in the movie Robocop as well as the video game of the same name).