Update.
Spy photos of a new Aston Martin 'Ultra-Sedan', as it's being called, were recently revealed.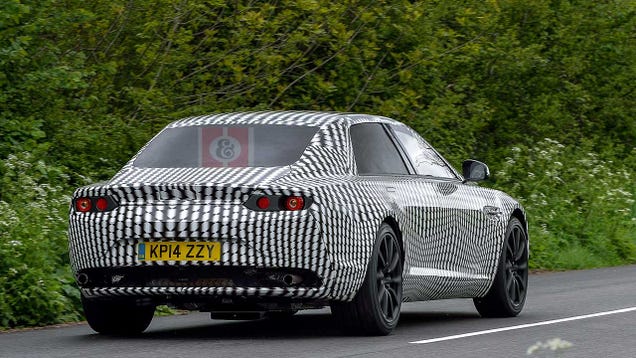 The design is a clear departure from the brand's current lineup, obvious even through the elaborate camouflage. Whether or not it looks good (at least to a majority) won't be known until it is fully revealed, likely in a grey color, later this year or early next year.
Initial assumptions are that this will be a 'bespoke production' a.k.a. limited run of vehicles, similar to the recent One-77 supercar. It is unclear whether this look is the future of Aston Martin, or simply a one-off design similar to the One-77 and Zagato offerings of the past.
It does look rather similar to the Zagato concepts revealed last July for the company's Centennial celebrations: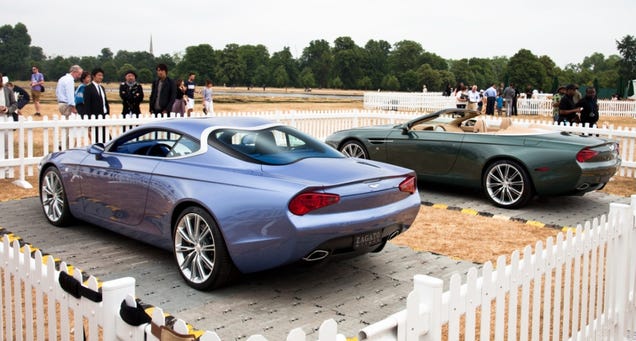 This car will not feature a new chassis or newly sourced engine from Aston Martin's recent dealings with Mercedes-Benz.
It's lined up to fit nicely with the production of Bond 24, but I have reservations about Bond in a four-door Aston. If they do it, I'd be pleasantly surprised. If we interpret Michael Wilson's "never before seen" Aston comment for Bond 24 as "never before seen.. anywhere", then this, or
something else they've been very good at hiding
, is likely your car. If you interpret it as "never before seen.. in a Bond film", then it could very well be the recent/current Aston Martin Zagato or Aston Martin Rapide S.