Anyone ever fell into the trap of buying one of these? Don't get me wrong, some are good, but some are terrible.
Here, let me kick this off with a really terrible one. Released in 1988, folks! I give you
The Living Daylights
20 James Bond Film Themes
by E. Starink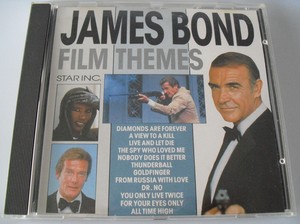 So this artist Ed Starink did a lot of synthesizer themes and whatnot back in the day and the Bond tracks fell victim to that. Themes the man would re-do synth style:
- The James Bond Theme
- FRWL
- GF
- TB
- YOLT
- We Have All The Time In The World
- DAF
- LALD
- TMWTGG
- Nobody Does it Better
- Bond 77
- MR
- FYEO
- AVTAK
- All Time High
- TLD
His Bond 77 version is perhaps the only track I can somewhat recommend. Others carry the typical 80s synth flavours, rather robust and hardly innovative, with - in some cases - truly poor effects. For instance, we all know that the Goldfinger Theme begins by repeating its two "lines" twice, once loud and clear, the second time lower and a little toned done. (I'm not a musician so forgive me if I can't phrase my thoughts more technically.) However, in most amateur re-do's, the second time we hear the familiar lines, it's just an exact copy of the first set of lines but with the volume turned down a bit. That's bad.
At the end of the LALD Theme, the percussions goes bug nuts crazy. Yeah, synth and stuff. Getting to have fun with the sound effects... Well fine. But not in my Bond music. It stinks!
Most of these tracks are acceptable, except that none of this could possibly substitute for the real thing.
But wait, doesn't the title mention "20" themes? Where are the other 4? Get this, there are four more tracks, called:
- Dial 007
- Miss Moneypenny
- The Japanese Connection
- Space Regiment
All of these were composed by Starink himself and they contain nothing - NOTHING! - of any material ever written for the Bond films, which begs the question why '007' and 'Moneypenny' were allowed in the title in the first place! Furthermore, why call this "20 James Bond Themes" when only 16 of them are? Why didn't he also do OHMSS, 007, Mr. Kiss Kiss Bang Bang and - I dunno - NSNA perhaps? Because look at the disc cover. That's the Sean Connery from NSNA right there and that film isn't even used for this CD.
This goes to show how unsophisticated consumers were in the day. Scramble together a pic of Grace Jones, Roger Moore in one of his least flattering moments as Bond, a little one of Tim in the lower left corner for those keeping up with the times, Sean Connery in a film that's not even used for this compilation and forget about Lazenby altogether. Call it "20 James Bond Film Themes" and deliver only 16 of those, ending the CD with four bland creations by an almost-nobody.
And people must have bought this enough because this Starink guy has several other Bond compilations under his belt. He'd re-do TLD at one point and also insert LTK, which is basically LTK without the words. But the other tracks would remain the same. For a synthesiser compilation,

some producer would simply bring all of the above back, except Starkink's own creations. Good, you say. Well, no, because they were just replaced with three new creations by a certain "T. Eyk", which also have little or nothing to do with Bond music at all yet are called
- My Name Is Bond
- He Never Shoots Twice
- Mr. Lady-Killer
So how come I have them? Two things: A) I was a child and my mom bought the second one for me. B) My aunt gave away her copy of the first one, not realising it contained 80 % the same music as the one I already had. She didn't care because, well, she was going to throw it away anyway. I only keep them for sentimental reasons. I bet ebay could make me earn back whatever money was spent on these back in the day.
;-)