I have tried to find a similar thread, but couldn't (maybe it exists, but the search engine let me down). So, I figured that somebody should create it, and it might as well be me. So here goes :
At the end of october, I went to London and Cardiff. At first, I wanted to go to Cardiff to attend a concert by one of my idols since the 70' (yes, I'm showing my age here), the great Judy Collins. But I kept adding a few things, and it became a Whovian week-end in more ways that I thought it would be.
For starters, I spent the saturday night in London to see the musical "Gypsy", featuring Imelda Staunton and Peter Davison, at the Savoy Theater. Imelda Staunton was of course fantastic as Mama Rose. But the rest of the cast was great as well, and a great evening was had by everyone. If you want to have an idea of how good it was, tune in to BBC 4, sunday december 27th, at 9pm, they're airing it.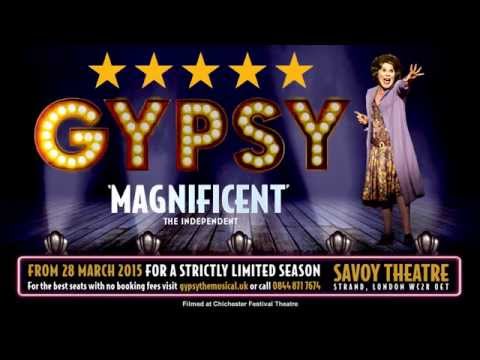 Yes, it's Lara Pulver in the trailer. But the night I saw it, Louise was played by Gemma Sutton, who did a great job (she had played June before Pulver left).
And on monday october 26th, I was able to, at last, see the incomparable Judy Collins, although the vening started with a little scare. You see, the concert was supposed to happen at the Tramshed, and that's where I went to. But, as I was at the venue, I learned that it had been relocated to the Globe, on the other side of Cardiff. Tankfully, the organizers of the event has rented a small bus to drive the concertgoers there, so we arrived on time. The opening act was Rachael Sage (
rachaelsage.com
, and she did a very good job of warming the stage, before Judy (and pianist Russell Walden) went on stage. In the course of the evening, after starting with the appropriate "Bells of Rhymney", Ms. Collins taught us a bit about her life story, and sang many of her greatest hits, including two songs I studied in English class in high school (Someday Soon and Farewell to Tarwathie), and a few new songs, including one rom her latest album "Strangers Again" (When I go). A little disappointment though : she didn't sing Amazing Grace. Too bad, she certainly would have had a great choir to back her up
;)
. But in spite of that, and the occasional glitch in her voice (she's not getting younger, but then, neither am I, right ?), I had a good time listening, and singing along, to all those classics of folk (and other genres of) music.
One little thing about Cardiff : you can't really escpe Doctor Who there. Wherever you go, you find reminders of the series, including in places you wouldn't imagine. For example, I visited the Pierhead, and saw the Tardis (complete with VWORP sound effect) in the intoductory movie they showed us in the great hall. And Rachael Sage told us that the last time she had been in Cardiff, she was the opening act for John Barrowman.
During my trip, I also visited the Bond In Motion exhibit (yes, I found the time) : Great all around, even if I had seen a bigger exhibit some 20 years ago (at the Salon de l'Auto in Paris). A bit disappointed that it started only with GF, but just to be near those iconic cars was a treat for this Bond fan. And of course, the Doctor Who Experience in Cardiff, a must for every Whovian. All in all, a great trip. But after spending without counting (some family members will receive Welsh gifts), I must now count without spending.
Your turn now.