Frank Kane's Johnny Liddell Thread
Searching for some James Bond Rittenhouse Trading Cards when I saw these pictures, I thought they're James Bond, but no!
After some research, it's actually Frank Kane and Frank Kane's works were quite similar to James Bond, he created a character named Frank Liddell.
Here's a detail about Frank Kane:
Kane was brought up in Brooklyn, New York. He attended St. John's Law School but had to leave his studies to support his spouse and newborn child. He worked as a columnist for The New York Press, as a letterer for the New York Trade Newspapers Corporation, for the New York Journal of Commerce, and in public relations, particularly as an advocate for the liquor industry. After World War II, he was a freelance writer, later working in radio, where he introduced movie stars, and in television.

Kane wrote for productions of The Shadow, Gang Busters, Counter Spy, The Fat Man, Casey, Crime Photographer, Mr. Keen, Tracer of Lost Persons, The Lawless Twenties, Nick Carter, Master Detective, and for the Coast Guard documentary You Have To Go Out. He created Call the Police for Lever Brothers and Claim Agent for NBC. From the 1940s through the 1960s, he wrote close to 40 novels (mostly centered around the character Johnny Liddell). He also wrote numerous short stories for crime magazines such as Manhunt, The Saint Detective Magazine, Private Eye, Pursuit.

He spent much of his in Hollywood, writing television dramas for the shows Special Agent 7 and The Investigators. He also wrote at least two dozen episodes of the television series Mike Hammer.

In 1960, his novel Key Witness was made into a feature film.
Here's some examples of his Johnny Liddell books:
I think, this is where Horowitz got the idea.....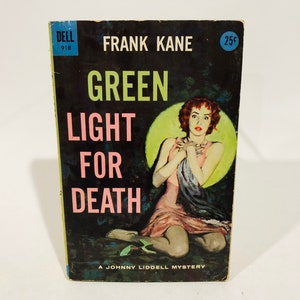 And this, a bit like Thunderball:
Just looking at it, it quite looks like a combination of Fleming and Hitchcock, what guys do you think?