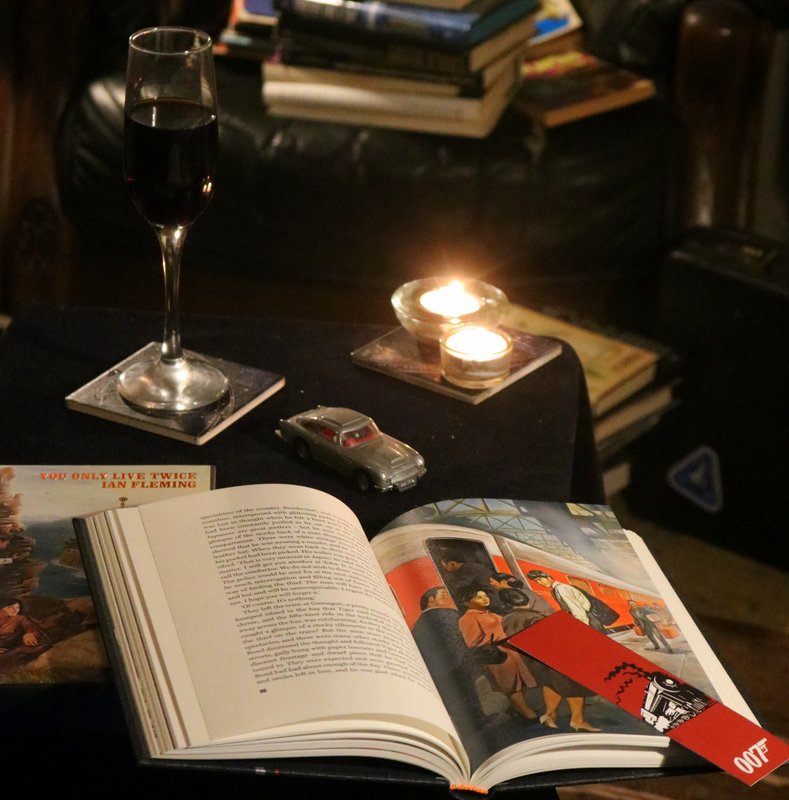 I suppose You Only Live Twice could be seen as the last true, full-bloodied Fleming Bond adventure, if you accept that The Man With The Golden Gun was unfinished. But that might be unfair on 'Golden', perhaps it's better to say 'Gun' was unpolished.
Either way, I started my great Fleming complete Bond re-read last year at the start of lockdown, and I was interested to see what I'd think about YOLT, as I used to place it at number one. I finished it yesterday (my lovely Folio edition, pictured). Here's some ramblings.
It begins with Bond in good sprits in Japan, playing paper/scissors with the fantastic Tiger Tanaka. Then it zips back a month, and Bond's in a bad way back in London. Bungling assignments, drinking too much, coming in late for work. And yet this deep set malaise isn't quite him in mourning. That's not how I read it. It's like some depression over his whole circumstances. It's also worth noting that when I re-read On Her Majesty's Secret Service a month or so ago, Bond's attachment and proposal to Tracy seemed more like 'this would be a good idea' than 'I can't live without this woman'. I was left feeling that if Draco hadn't planted the idea in the first place, the proposal wouldn't have come about.
Bond's refusal of Draco's dowry is really touching though. That part wasn't nearly so rendered in the film.
Back to YOLT.. the neurologist James Molony (the 'greatest in England') reports to M (at Blades) that he thinks Bond felt Tracy was a 'bird with a wing down', and this had much to do with Bond's fascination with her, and his depression at not being able to save her. M comes across quite uncaring in this part. Molony has much more sympathy for Bond's predicament than M.
But anyway, Bond is summoned to M's office, and knowing how he's let the side down lately, offers his resignation, (he drafted a full letter in the previous book). But instead, and much to Bond's pleasant surprise, M sends him on a low-risk diplomatic mission to Japan. He's taken off the 00 section and given the number 7777.
And a good major portion of the book is then given over to Bond's time in Japan with the head of the secret service, Tiger Tanaka. This is all great reading, as they clash – sometimes quite abrasively – over matters of honour, culture and patriotism. The lack of action and suspense in these chapters doesn't matter, but I did get the feeling of these passages being more like one of Fleming's short stories, which often rely on situations and anecdotes rather than page-turning set pieces. The three books that make up the 'Blofeld Trilogy' are quite differently structured I think. Thunderball is more like a stand-alone adventure/mission, whereas OHMSS and YOLT are kind of more personal to Bond.
And Jesus, there's a lot of drinking. At one point, Bond orders a pint of Jack Daniels and eggs benedict to be sent to his room. A pint of JD? That would put me in half a coma, (although Fleming does say Bond woke with a hangover). And he puts away the sake like no-one's business. I've no idea how strong sake is, but Bond definitely puts a few bucketfulls away during the book.
And Dikko Henderson takes Bond whoring and calls him a 'pooftah'. I must admit, whenever Fleming goes into what would be considered none-PC territory, I love it. Even though I'd consider myself liberal minded. And all credit to Folio Editions for keeping religiously to the original text, (particularly in the case of the Live and Let Die novel). I'm sure people that make the investment in these fine editions appreciate that.
Kissy Suzuki is a fine character too. Her scenes with Bond are a treat, and I enjoyed reading about his time on the island. Is there a Bond novel with more actual dialogue from Bond I'm wondering? This book is very 'conversation' heavy. Particularly in the Tiger Tanaka sequences.
Shatterhand/Blofeld's scheme is ludicrous. What does he have to gain by simply giving Japanese people the means to commit suicide? The OHMSS plot was barmy enough, (hypnotising women with allergies to bring down UK agriculture?), but here he's just assisting people who would probably have topped themselves anyway. I was waiting for some explanation of the real reason for his castle and garden of death, but it really does seem like he built it just so people could kill themselves. But no matter, he still makes a great villain, walking round in his suit of armour, and the whole Garden of Death sequence is quite surreal. Some fabulous writing here.
When Bond finally confronts Blofeld as Bond, (they don't actually meet in OHMSS if I remember right), his witty comments about getting Noel Coward to "put the whole thing on Broadway" are very filmic. You can imagine Roger saying those lines quite easily.
After Bond escapes, there's a lot more of his amnesiac time with Kissy than I remember. I'd completely forgotten that both Tiger and Dikko went looking for Bond on the island afterwards. It would have been nice if Tiger and Bond had met up again, (I think they did in a Benson novel actually).
The obituary is a bit of Fleming fun, and I read in the 'Man With The Golden Typewriter' book that he met some resistance from the publishers about aspects of the obituary, which I'm betting was the part where he mentions his own novels. Fleming wrote 'the whole obituary idea is a bit of a lark to which I'm much attached'.
In summary, I think it's the most unusual Fleming bond, and it's a cracking read that doesn't quite reach the heights of FRWL or OHMSS, but is easily in one of the top entries.
Plus, I reckon it's the richest Bond novel for 'Chapter titles as future movie titles'. The Death Collector being possibly my favourite.