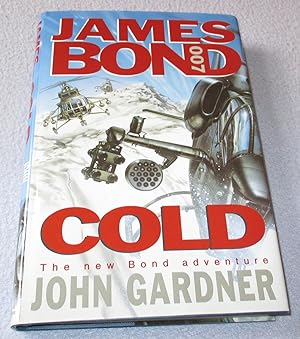 Ah, this is a bit of a strange one, but please bear with me.
:)
ACE, of CBn Forums
:
The first few Gardners are great. I even like COLD because Gardner (et al who helped write it) got a chance to experiment with structure.
Link to the quote above in context:
http://debrief.commanderbond.net/topic/63165-top-10-continuation-novels-poll-added/page-3
(Quote above is located at post # 63 in the link)
The above post was made by the well-respected CBn member ACE (as Ajay Chowdhury he is co-author of the superlative and highly-recommended Bond film history tome
Some Kind of Hero
, pub. 2015) on 10 April 2015. ACE is therefore not in my opinion someone who reveals such details lightly. I assume he has some literary Bond insider knowledge here. As you can see, it intimated that John Gardner had help with writing his final James Bond continuation novel
Cold
(which was titled
Cold Fall
in the US) by one or more persons unnamed and unknown who apparently helped him. 'Et al' of course means 'and others' in Latin and is a common scholarly abbreviation. It indicates that more than one person may have been involved in helping Mr Gardner write
Cold
.
Now I have been interested in this post since it first appeared on the (now) old CBn Forums. Obviously, it was the first time I had ever heard anything of this and so I thought I would create this thread now to see if we can tease out any more of the details. I think that the veracity of such a statement must be tested fairly on an open forum. After all, why make a statement of doubt as to true authorship if you can't stand over it? That is only right and just in my view.
We do know that in Mr Gardner was in rather poor health around the time of
Brokenclaw
in 1990 when he had prostate cancer and that later on around the time of
Cold
in 1996 he was suffering from oesophagal cancer, both of which he was thankfully cured of in the US where he lived during that period. So, bearing these medical facts in mind, could Mr Gardner have needed help in finishing his final Bond novel,
Cold
, and if so what form did this help take, beyond that of the general editorial help he would have received on any of his Bond novels or his own non-Bond novels? Could his health troubles have been the reason for the help he apparently received in the writing of
Cold
? These are the key questions and my essential reason for creating this thread.
I wonder if ACE (if he happens to be reading now or at a future time) or anyone else here who may know more details about this could possibly elaborate on the quote above as I find it most fascinating? A CBn fellow member (and friend) Major Tallon was equally fascinated by this revelation by ACE and was also keen to learn more about it. I'm sure he too would like answers on this issue. I asked ACE to tell us more about this revelation. Sadly, I was stonewalled. My post showing this there has sadly been recently deleted by the CBn mods. So, again sadly, no further information was forthcoming at that time [April 2015]. As I was still so intrigued by his almost throwaway revelation, I then of course asked ACE in a private message about this but he said he did not want to comment on it any further than what he had already said on the CBn Forums thread quoted from above. I'm not at all sure why this was however. As there was no follow-up reply of any kind from ACE beyond his initial revelatory post citing more details or corroborating evidence I have created this thread.
By the way, in case you are wondering, I did create a thread on this very subject over on the new CBn Forums: 'Quarterdeck' but was banned for the trouble for the heinous crime of being the returning previously banned member SILHOUETTE MAN. I assume this was the real reason and not that I had uncovered some sort of literary Bond conspiracy(?!) Oh well, you have to at least try, don't you? As a writer, I detest being edited.
The heirs of SMERSH have long memories it seems...
I hope someone out there can help me with this important query. Thank you for indulging my Gardner Bond obsession by reading! I really want the truth to come out - and I hope that John Gardner did indeed write all of
Cold
himself and only got the usual editorial help he always did on his Bond novels.
:)
So, let's try to put this one to bed, once and for all.