The new "S.P.E.C.T.R.E." syndicate compared with the "Bilderberg Group"
I don't know if S.P.E.C.T.R.E. in "SPECTRE" was modelled by Sam Mendes after the real-life secretive organisation, the so-called 'Bilderberg Group' (founded by the Dutch, British and Polish shortly after WW II). But for me it really looked like the Bond-equivalent of the Bilderberg Group:
https://en.wikipedia.org/wiki/Bilderberg_Group
https://en.wikipedia.org/wiki/List_of_Bilderberg_participants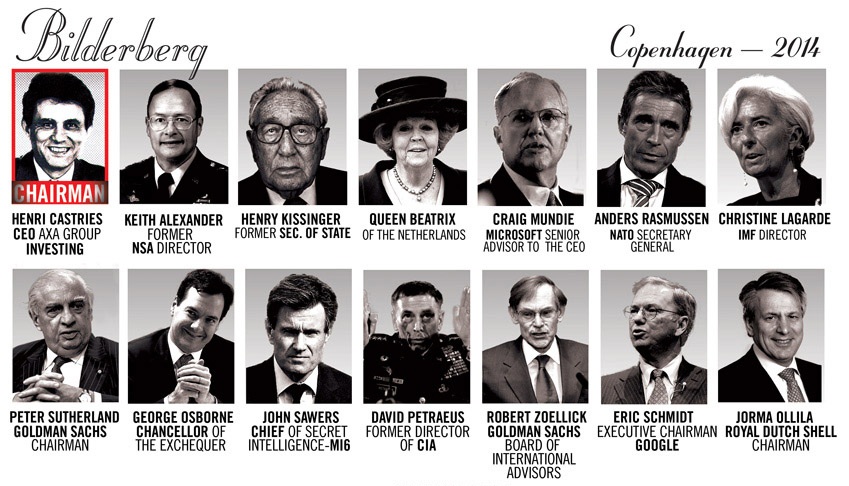 Its task are to protect Western prosperity by uniting the USA, Canada, Australia and most of the original founding members of the European Members. Most Royals are members (
make no mistake, the Dutch Royals are more powerful than the British Royals. Currently, the abdicated Queen Beatrix is still one of the most influential members
). And there are political members. Usually with one conservative and one liberal member from each country. For instance in my country The Netherlands Prime Minister Mark Rutte (conservative) and Alexander Pechtold (chairman largest progressive-liberal party) are member.
One of the co-founders, Prince Bernhard of Lippe-Biesterfeld was the grandfather of the current Dutch King, King Willem of Orange-Nassau. He actually worked during WW II in London on the Naval Intelligence Department. Ian Fleming, the author of agent 007, got the task to run a thorough background check on the man, who was thought to be an ex-member of the Nazi's by the British government, which eventually could not be proven.
Later on, Ian Fleming and Bernhard of Lippe had frequent luncheons together. And he actually named a character of the novel "Thunderball" after him: Count Lippe. Who also appears in the film.
Criticism on the obscure and secretive Bilderberg Group
Because of its working methods to ensure strict privacy, the Bilderberg Group has been criticised for its lack of transparency and accountability. Due to its privacy, Bilderberg has been accused of several conspiracies. This outlook has been popular on both extremes of the political spectrum, even if they disagree about the exact nature of the group's intentions. Some on the left accuse the Bilderberg group of conspiring to impose capitalist domination, while some on the right have accused the group of conspiring to impose a world government and planned economy.
https://www.washingtonpost.com/local/is-bilderberg-a-conference-on-world-affairs-or-a-powerful-global-cabal-depends-on-who-you-ask/2012/06/01/gJQA5uqx7U_story.html
So make no mistake,
"SPECTRE" is a way more relevant Bond-film than many of us in here think
;-)
.