This FAQ was created to give members quick access to the answers to all of the questions they may have about using MI6Community. To use this FAQ, simply look for the Subheading that deals with your queries and click on the blue corresponding heading. You will be redirected to the section that applies to you.
MI6 COMMUNITY – Main Page Definitions





Username

Inbox

Sign out

MI6 HQ

Magazine

Activity

Categories

Discussions




Search

Discussions/topics

Bookmarks

Mine

Drafts




Start a new discussion

Categories

Bookmarked discussions

Who is online

Announcements

The Community


HTML





Posting a link

Posting an image

Using bold/italics/underline

font colour and size


=====================================================
MI6 COMMUNITY – Main Page Definitions

1. Username
You can click on your username to display your profile and make changes to your account. For a detailed explanation on how to manage your profile, please click
here.2. Inbox
Clicking on "inbox" will redirect you to the Conversation (Private Messaging) system. More information on how to use this system can be found
here.3. Sign out
Signing out will log you out of the system, at which point you will have the option to sign back in at any time.
4. MI6 HQ
Clicking "MI6 HQ" will redirect you to the
MI6-HQ main page
.
5. Magazine
Clicking "Magazine" will redirect you to the
MI6Confidential Magazine page.6. Activity
Click on "Activity" to view the latest activity of other members. This section highlights avatar changes and messages posted on the profiles of other members.
7. Categories
Click on "Categories" for a categorical view of the forum. See the image below for an example of what category view looks like.
8. Discussions
Click on "Discussions" to return to the main view of MI6Community. Discussion will be listed based on most recent activity.

1. Search
Use the "Search" function to search for discussions and posts you wish to find.
2. Discussions/topics
This is the main body of the forum. All the topics of discussion will be listed here.
3. Bookmarks
The "Bookmarks" tab will allow you to view bookmarked discussions. To bookmark a discussion, click the star symbol on the right-hand side of the discussion.
4. Mine
The "Mine" tab will allow you to view discussions that you have created.
5. Drafts
Click the "Drafts" tab to view replies that you have saved as a draft. Drafts can be saved manually but are also saved automatically. See HERE for more information how to post comments and drafts.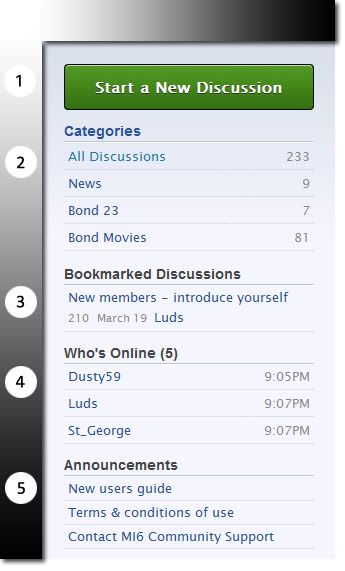 1. Start a new discussion
Click this button to start your own topic. Once clicked, you can choose a title for your discussion and select the category in which you would like your discussion to appear.
2. Categories
This is a list of the Forum's categories. Click on a particular category to view discussions that pertain to the topic of the section.
3. Bookmarked discussions
Your bookmarked discussions are also listed here for convenient access. Clicking on a discussion from this sidebar has the same effect as clicking it from the main page.
4. Who is online
This Section lists the members that are currently online as well as the latest marked time of activity. Clicking on the usernames will bring you to their profile.
5. Announcements
MI6 Community has created certain threads that are a priority read for all members. These threads can be found under the "Announcements" heading.
The Community
1. Start a conversation
Click "Start a conversation" to start a conversation between you and other members. This is the core of the private messaging system. Add the username of the member you wish to contact and compose the message.
2. Add to a conversation
Multiple members can be added to a single conversation. You must already be in a conversation for this option to appear. This allows you to create a group conversation viewable by all the members you have added. Click this button and add the username of the member you wish to add.
3. Delete a conversation
Clicking this button will delete a particular conversation. For this option to appear you must first click on the conversation you wish to delete.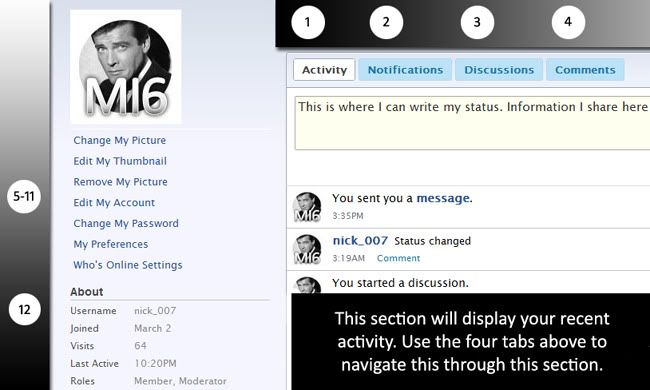 1. Activity
This tab highlights your recent activity. Here, you will be able to view your recent avatar changes as well as messages that have been written on your profile. You can also add messages to your own profile from this page.
2. Notifications
Notifications, such as messages sent or received will be posted here.
3. Discussions
Clicking this tab provides a list of all the discussions that you have started.
4. Comments
Similar to the "discussions" tab, you will see a list of your comments by clicking here.
5. Change my picture
Click here to change or add a picture to your profile. Once clicked, you will be asked to choose a file from your computer to be uploaded for use.
6. Edit thumbnail
A smaller version of your profile picture is used when other view your posts. To select which portion of your picture you would like to appear in your posts, click "Edit thumbnail". A window will open up allowing you to select part or all of your image to be resized for thumbnail view.
7. Remove picture
Clicking "Remove picture" gives you the option to remove your avatar without choosing a replacement.
8. Edit account
Clicking here will open up a new window where you can change your e-mail address, set it to public/private, and select your gender.
9. Change my password
Click here to reset your password.
10. My preferences
Various notifications can alert you to happenings on the forum. In this menu you can select which notifications you wish to receive. Ex: You can choose to be alerted of a Private message or a reply to your discussion by e-mail.
11. Who is online settings
Click here to adjust visibility settings.
12. About section
This section displays your user statistics. Join date, posts, visits, and activity are displayed here. This section cannot be modified.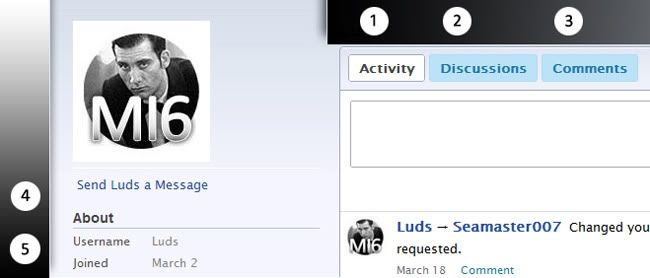 1. Activity
This section is similar to the activity within your own profile. All of the user's recent activity is displayed.
2. Discussions
Click here to view topics started by a particular member.
3. Comments
Click here to view comments by a particular member.
4. Send a message
This is an alternate way of sending a private message to a member. Click on this button to send a PM.
5. About section
This section displays all of a member's statistics. It is identical to your own "About" section.
1. In this discussion
A list of members who have participated in the discussion can be found in this list.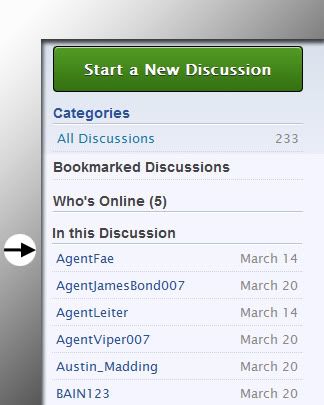 2. Bookmark star
The star at the very top of the discussion is a bookmark star. This is one of the methods used to bookmark a topic.
3. Permalink
Click "Permalink" to create a link that directs to a specified post. Once "Permalink" is clicked, the URL in your browser will change. This new URL is the link that corresponds to the specified post.
Before Permalink is clicked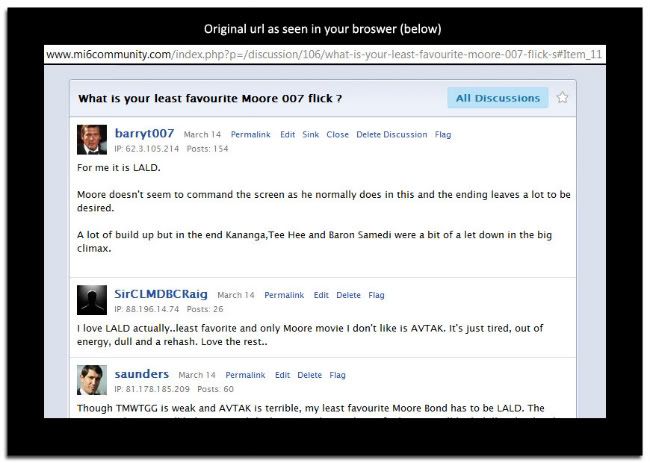 After Permalink is clicked. New url is formed and the page is redirected
4. Flag
If a post breaks the Terms and Conditions of use it can be flagged. Use this to alert the moderators to a post that needs immediate attention.
This is an example of what will need to be filled in once a post is flagged.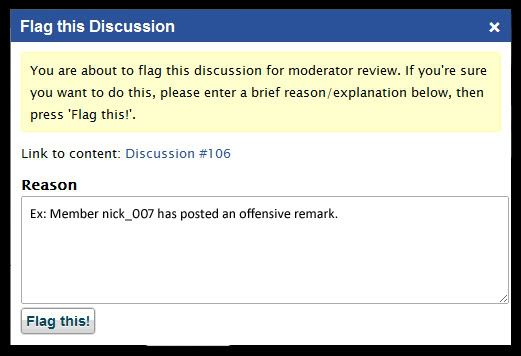 5. Edit
This button only appears as an option in your own post. Use it to make any changes to your reply.

6. Quoting
To quote another member's post simply click the "QUOTE" button above the post you wish to quote. This can be done to multiple posts before replying. All quoted posts will be logged in the reply box at the end of the thread.
(Image coming soon)
7. Replying
The reply box is located at the bottom of the screen. Here, you will be able to type up a reply as well as preview what it will look like once posted. Click on save draft to manually save your draft if you are not ready to post.
1. How do I delete?
Deleting a post is disabled for the time being. This may change in the future.
2. How do I embed a youtube video?
This is done automatically by the software. Just post the url and you are done!
HTML
The following section provides simple examples of HTML code you may like to use in your posts. These examples may be copied and pasted into your own posts if need be.
1. Posting a link
2. Posting an image
3. Bold/Italics/Underlining


<b>This text in bold</b> --> This text in bold


<i>This text in italic</i> --> This text in italic


<u>This text is underlined</u> -->

This text is underlined
4. Font colour and size
N.B: Below lists one of the ways font colour may be changed. Sizes of fonts range from (smallest) 1 to (largest) 7. The default size is 2.